The life we experience is what we think it is. This is simply habitual thinking based on the patterns I have believed are my self, my personality or my "truth" of how the world "is".
If I think it's hostile or safe will determine how I see how whatever happens in my world. However, this is only a set of thinking. It's always possible to change one's mind and have a different experience based on realising conditioning can always unravel to something new.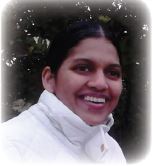 About Speaker:
Harika is originally from Hyderabad, India, and has been practising Raja Yoga since the age of 13. A full time volunteer in Brahma Kumaris for the past 10 years, she is now based at the Brahma Kumaris National Co-ordinating Office in North West London, where she helps with administration and co-ordinating activities in Harrow. She has found spirituality to be a joy as well as an invaluable tool in life - enabling her to explore her inner strengths and skills and to share with others what she is discovering and learning.