A GIFT TO CELEBRATE AFRICAN HERITAGE | ONLINE INTERNATIONAL ONE-DAY RETREAT
Zoom ID: 843 2047 4930 | Passcode 241020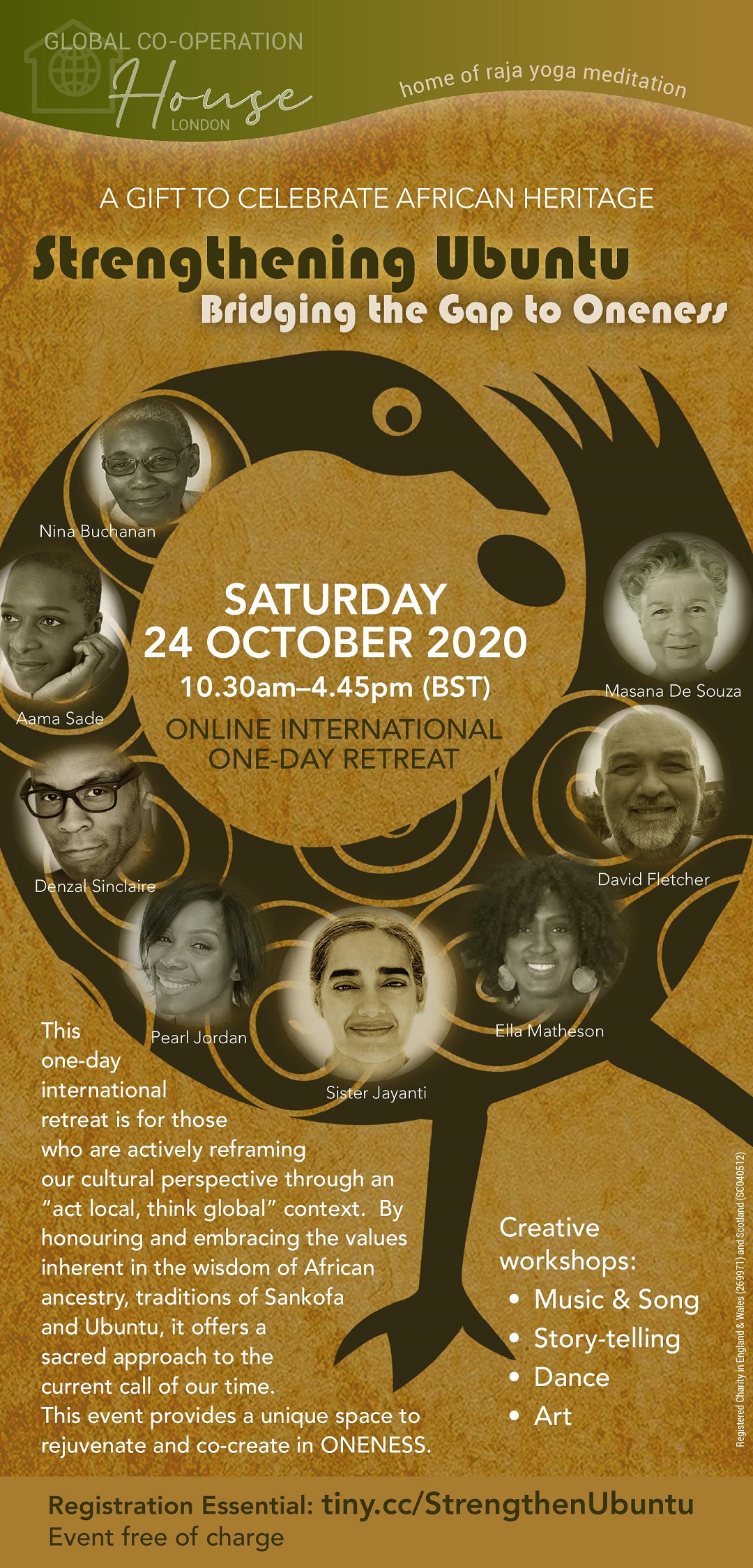 BOOK NOW
For many years each October we hosted a public event as a contribution in support of the spirit of Black History Month.
In the wake of recent and current global developments such as COVID19 and Black Lives Matter, we wish to collaborate with individuals and groups already on their unique spiritual paths, and who are catalysts for global harmony within their own rights.
We will be hosting the event as a one-day retreat and our vision is to come together in the spirit of Oneness to create a sacred space for meaningful creative dialogue for healing individually and collectively.
LIST OF PRESENTERS' BIOS
1. Ella Matheson (MC): Ella is a Compassion Consultant, and Conscious Activist to establish a United Kingdom Ministry of Peace. Recipient of the Dadi Janki 100 Women of Spirit award in 2016. A Trustee of the (Desmond) Tutu Foundation UK, and a
Facilitator for the Prem Rawat Peace Education Programme.
2. David Fletcher (MC): David Fletcher is of mixed race Afro-Guyanese descent and has lived and worked in many countries on the African continent the past 35 years. An educator and community development specialist he has explored the traditional
indigenous wisdom and spirituality of many African peoples. David has been a student of the Brahma Kumaris since 2002.
3. Aama Sade: Shamanic Celebrant. Creative Facilitator, Artist & Percussionist
4. Denzal Sinclaire: Canadian jazz vocalist who has performed internationally in numerous concert halls and festivals around the world.
5. Pearl Jordan: Founder of the Rhythmic Remedy™ Technique an holistic approach to personal and professional growth.
6. Dr. Amina Backwood-Meeks: Educator, Writer, International Storyteller, Actor and Director.
7. Nefateri Asantewa: Mother, grandmother, an award winning entrepreneur and a creative soul.
8. Sr. Jayanti: Travels widely addressing individuals and organisations on spirituality, emotional intelligence and well-being. European Director of BKWSU and NGO representative to the United Nations Geneva, Sr. Jayanti has been an emissary for peace for more than 45 years. She has a vision and experience that is truly global and deeply spiritual.
Booking essential to receive online link | Event free of charge