Harmony House,
122 Ross Walk
,
Leicester
LE4 5HH
Coming together even though we're apart:
Online activities for the present time

Following the latest government advice about Coronavirus, Brahma Kumaris centres and Inner Spaces will be closed to the public from 10pm on Wednesday 18th March for three weeks initially.

Although the time requires us to be physically distant for a while, we will continue to stay connected and offer our free courses, talks, meditation sessions and other activities online through various channels, as much as possible. We will also be experimenting with new ways to be together and offer support virtually.

In the current atmosphere of anxiety and panic, it is very important for each one of us to take care of ourselves and others not just physically but also 'on the inside'. Giving time each day to 'upload' positive and spiritually empowering thoughts into our minds is the best way to help us respond to the current situation.

We'll post updates to our websites and social media channels and keep everyone on our mailing list updated.

Here is a short video message from Sister Maureen - link is https://drive.google.com/file/d/1twh4xU58aAvFe7kqg73-JUkXRv93P619/view

Brahma Kumaris students around the UK (and around the world) meditate every evening 7.00 - 7.30pm. You are welcome to join us virtually for this half hour of positive reflection. You might like to start with one of these online meditations: www.brahmakumaris.org/meditation/experience-meditation

And, in addition to the live online courses and events we will be offering, here are some of our existing online resources you might like to explore:
Online resources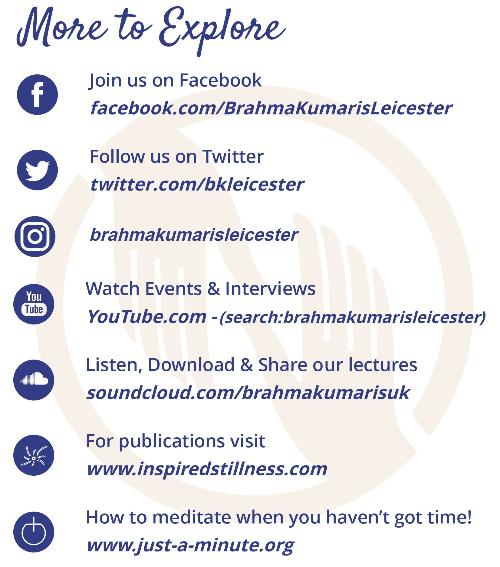 Stay safe and let's stay connected
Om shanti
Need some time out? Come and sit in silence and enjoy
some quiet moments with the sound of soft music.
Every Month Monday to Sunday 9.00 am - 8.00 pm

T: 0116 216 8430
E: This email address is being protected from spambots. You need JavaScript enabled to view it.
www.brahmakumaris.org/uk/leicester
Date(s)
There are currently no planned dates.